These are the words, images, and beers that inspired the GBH Collective this week. Drinking alone just got better, because now you're drinking with all of us.
READ. // "There are good tastes and bad tastes; not only that, there's a growing caste of gatekeepers in every field who are keeping score on what tastes great, middling and flawed. Maybe this is what morality or philosophy looks like in an increasingly post-religious, post-intellectual, materialistic United States." Jason Wilson's exploration of the wine-ification of gourmet foods leads us to question what 'education' really means and what we're really looking for.
LOOK. // Odd-but-humorous translation flubs aside, this ode to the life and filmography of Stanley Kubrick is treated with all the beautiful typography and visual flair you'd expect from the director of A Clockwork Orange.
DRINK. // Duvel's Single
It's tragic that I've never had the privilege of experiencing this beer. Grassy and spice-laden, the Single features all the wonderful, sweet maltiness and familiar Duvel flavor you'd expect from one of the finest Belgian brewers in the world. And it's a no-brainer grab as those dated cans of haze and months-old IPAs in the fridge get a little bit older with each passing day.
READ. // "'The thing that bothers our family is the focus of the film is all about a white man who was an extreme racist who was still a racist at the end,' said Karole Shirley Kimble, daughter of Shirley's brother Maurice. 'Clearly, our family has a legacy of black excellence and family pride. Our concern is that (this) white director presented one person's perspective.'" Read this piece by Hamil R. Harris about the legacy of Don Shirley and how he was portrayed, against the wishes of his family, in the movie Green Book.
LOOK. // Coffee Twitter got into it a few days ago over Rebecca Brand's video on how to make a perfect pourover—it only took the internet two days to realize she was fooling all of us.
DRINK. // Taylor's Late Bottle Vintage Port Wine
I visited Porto, Portugal recently, and—you guessed it—drank lots of port! Port is a fortified wine made from grapes in the Duoro Valley, just west of Porto extending out to Portugal's border with Spain. Port comes in four styles: white, ruby, tawny, and a controversial "rose port." There are only 40 or so houses that bottle and distribute port, which makes it easy to learn about different producers. I tried lots of port during my travels. This was one of my favorites.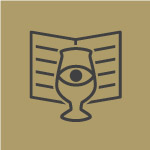 Curated by
The GBH Collective