These are the words, images, and beers that inspired the GBH collective this week. Drinking alone just got better, because now you're drinking with all of us.
READ. // Last week was kinda heavy, if I'm being perfectly honest. Did I expect to cry while reading a story about a guy who shucks oysters? I did not, but that's just the way life goes sometimes.
LOOK. // Oh, and did I expect to be blown away by a local newscaster? Of course not! But Sharon Reed is a national treasure, and I need you all to understand that.
DRINK. // Bissell Brothers' Swish Double IPA
Thankfully, I had a couple cans of this stuff in the fridge. It's somehow light and easy to drink, despite its 8% ABV. It's a total hazebomb, but doesn't need trendiness to justify its existence. It's a practically perfect beer, is what it is, and I'd recommend it as a tough-week-ender to any and all of you.
READ. // "'You've got a Chubby on,' I said. Zinke looked at me, then down at the zipper on his pants. 'Your fly,' I said. 'It's called a Chubby Chernobyl.'" Elliott Woods of Outside Magazine goes fly-fishing and examines interior secretary Ryan Zinke, a man some hoped would be a modern day Teddy Roosevelt.
LOOK. // Jim Carrey might not be your favorite method actor, but give Jim & Andy: The Great Beyond a try. The documentary follows Jim (Or should I say...Andy?) during the rather trippy filming of the 1999 Andy Kaufman biopic, Man on the Moon.
DRINK. // Blackberry Farm Brewery's 2017 Flanders
Back when I first tried this, the beer was conditioning with hundreds of other unlabeled bottles at the brewery. Today, it is shows myriad, complex notes of dark cherry, oak from the red wine barrels, and delightful acidity.
READ. // "Lethal Weapon is a reminder that we shouldn't take what we have for granted, and that's what Christmas is all about." On Film School Rejects, Kieran Fisher breaks down why it's a perfect movie for the holidays.
LOOK. // These wood panels painted by artist Mike Hammecker feature vibrant colors and capture subject matter ranging from simple patterns and line work to sneakers and flashy moments of pop culture.
DRINK. // Allagash Brewing Company's Coolship Resurgam
If you follow Allagash on Instagram, and you should, you know they're in the midst of coolship brewing season here in Portland, Maine. My favorite of these beers is Coolship Resurgam, a blend of one-, two-, and three-year-old spontaneously fermented deliciousness brewed in their coolship. Fruit and funk heavy, this beer is incredibly complex and incredibly drinkable.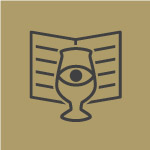 Curated by
The GBH Collective