These are the words, images, and beers that inspired the GBH collective this week. Drinking alone just got better, because now you're drinking with all of us.
READ. // "It's a constant development. You have to devote yourself completely to your work and seek to improve everyday. It's important to always be on the lookout for new ways and methods to be able to adapt to the constant changing of the environment. Specialty coffee requires more work than conventional farming, and you can't just be in it for the money." How the folks at the Coffee Collective are effecting change in the coffee landscape in Columbia with fixed pricing.
LOOK. // I've said it before and I'll say it again, San Francisco is my favorite city in the world. Photographer Nick Steinberg's images of SF's fog rolling over neon-lit skies, acting as a backdrop for the landscape, showcases the natural beauty and futuristic technological spirit that envelops and represents the city itself.
DRINK. // Anchor Brewing Christmas Ale
And speaking of San Francisco, everyone's got their favorite annually released holiday beers, and this one happens to be mine. With slight changes to the recipe, the depth of flavors in this winter warmer changes year after year, as does the "Christmas" tree adorning the label. The entire experience surrounding this beer is something that I look forward to each and every year.
READ. // " Win the championship? I don't know, but it's not a priority in my life. I'd be much happier if I knew that my players were going to make society better, who had good families and who took care of the people around them." In a time when our elected leader claims we're going to win so often we'll get sick of winning, it's helpful to remember that winning isn't the goal at all. Thanks Gregg Popovich.
LOOK. // It's a big, beautiful, relentless world out there. The New York Times reminds us all with their Year in Pictures. It's a long, satisfying scroll.
DRINK. // Whiner Beer Co. Candy Darling
This Wild Ale fermented in oak with about 40 pounds of plums per barrel is a delicate and lovely expression of the fruit, with just a hint of the tannic skin. If this is where Whiner is heading, and I believe it is, then we're in for a real treat.
READ. // "But until these surgeons stop being cowards and agree to graft a latex Crying Jordan mask onto my face, I'm just going to take the L. I don't know if I can take the blame." Jeremy D. Larson is brilliant. Read this, then follow him on Twitter—he's really good at it.
LOOK. // I spent the weekend with some pals in a yurt. We had great food, great drink, and one weird little bird that wouldn't leave us alone. Something about staring at nature resets the brain and steadies the soul.
DRINK. // Jolly Pumpkin Artisan Ales/Monkish Brewing's Cucurbitophobia
This sour ale with blood oranges and spices is blonde, a touch hazy, and pleasantly tart. It's the kinda beverage that I imagine would pair well with a cafe table on a hot sidewalk, one that might nicely complement, as the copy on the back of the bottle says, "having adventures and shit." But I'm not mad at it on a chilly December night in Georgia stuck at a table doing some editing. A stunning beer.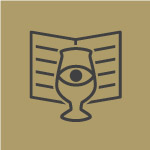 Curated by
The GBH Collective