These are the words, images, and beers that inspired the GBH Collective this week. Drinking alone just got better, because now you're drinking with all of us.
READ. // "Trying to evoke nonbinary experience for binary people, in a world where nearly everyone is raised with an either-or concept of gender, can feel liberating, but also futile: wearying, dispiriting, sometimes devastating." I'm a very liberal Californian who happily photographs lots of queer and nonbinary weddings, but I still can't fully grasp the fluidity of gender. Turns out I'm not an obstinate jerk and we're all just figuring it out together. Plus, these portraits are stunning.
LOOK. // Amish people on vacation, driving golf carts, using some technology, and having what appears to be a relatively normal family vacation.
DRINK. // Llanllyr Source Fiery Ginger Beer
Some of us can't day-drink without napping, and we benefit from nonalcoholic options that aren't La Croix during the summer heat. I love a ginger beer that's spicy and flavorful without being a heavy sugar-bomb. You can feel Llanllyr Source Fiery Ginger Beer in the back of your nose after taking a sip, but it's also refreshing and has half the sugar of other ginger beers out there. Plus it's from Wales, which is randomly compelling. Will I mix in some whiskey later tonight? Absolutely.
READ. // "I think the 'smooth' part came first. I was thinking more about Carlos. I was thinking, 'You're so smooth,' about Carlos Santana." I'm...I'm just so happy that he said those words to a journalist.
LOOK. // Are we over this yet? I'm not.
DRINK. // Firestone Walker Brewing Company's Napa Parabola
I am on the record as having nothing but wonderful things to say about Firestone Walker's 2019 Invitational. And this? Well, this is the only beer I brought home from the venerable beer maker that wasn't Pivo. Aged on "French oak wine barrels from one of Napa Valley's most prestigious cult wineries," this hearty Russian Imperial Stout has me longing for the cool nights of the coming fall.
READ. // "Why would people do this? Why pretend kids are of 'little importance'? When work and parenting seem at odds—because our culture tells us they're at odds—mothers and fathers feel forced to demonstrate their commitment to one (the work side) by minimizing their concern for the other (the parenting side). They do not want their bosses to think they are anything other than 100 percent committed." The more we talk about anything, the more likely the world will eventually develop an empathic view of it and adapt. Maybe. When it comes to kids and working, men have a lot of responsibility in making it a shared value. No more secrets.
LOOK. // I spent the past weekend in Castro Valley, California with a woodworker-artist-car aficionado named Eric Stevens (who goes by Stavn). The multi-faceted life he's stitched together (or, I should say, is perpetually in the act of stitching together) is admirable. Alongside being a husband and father, he's starting up a woodworking company, trying to get a car-build business off the ground, and pursuing his personal projects (his latest tree-trunk prints are incredible). But it all comes together under his Stavn Instagram account. Which, if you're paying attention, is a bit like following a motivational speaker who's having just as hard a time as you are.
DRINK. // New Belgium Brewing Company's La Folie Grand Reserve PX
New Belgium relaunched its wild and sour program this past year, bringing back the live-culture bottles of yore. The brewery also found some clever new ways of putting sour beer in the bottle, like PX: a nitrogenated version of the iconic La Folie. It's aged for nine months in Pedro Ximenez sherry casks (the fruit and oak character really comes through), then infused with a vanilla-bean extract that's handmade by Lauren Limbach. The result is a crazy-luscious texture, almost like a flourless chocolate cake, with a big red-fruit and acid finish in balance. I got to taste this again at the most recent Into the Wild dinner we did with New Belgium at State Bird in San Francisco, and it was a total showstopper.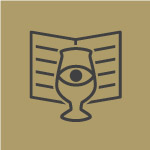 Curated by
The GBH Collective