These are the words, images, and beers that inspired the GBH Collective this week. Drinking alone just got better, because now you're drinking with all of us.
READ. // "His office features a model migrant boat bearing the proud declaration 'I Stopped These,' and a cabinet adorned with a Jesus shrine and a biblical proverb to 'Trust in the Lord.'" Stopping the boats has been a catchphrase and source of pride for the Australian right. Basically, it means putting families into offshore detention centers indefinitely and calling it a victory.
LOOK. // Watching a webcam fixed on nesting falcons and their four eggs is a meditative place in this messy world. A lovely throwback to the internet in simpler times.
DRINK. // Grifter Brewing Co's The Omen
Grifter just began packaging its Oatmeal Stout in a black and gold can, and it's gorgeous stuff. It's also 5.5% ABV, rich and thick, but not overly harsh and filling like many Aussie Stouts. I could slide a six pack of this in to my fridge and then wonder where they all went.
READ. // "He is to highways, service stations, and signage what Warhol was to soup cans." During a recent trip to the Louisiana Museum outside of Copenhagen, I caught an Ed Ruscha retrospective. His bold graphic art and photography of Los Angeles spoke to my love of linearity and order.
LOOK. // While working on a recent GBH story, I wanted to reference some specifics about Metro North signage. That research lead me to this, a look at how disparate designs were consolidated and organized to form the visual language 8.5 million people now see on a daily basis.
DRINK. // Allagash Brewing's Shiro's Delight
September is a weird time in NYC, weather-wise. It can be 80 or 50 on any given day—sometimes both. Thankfully, Allagash has given us a new beer that spans that in-between state. Shiro's Delight provides the boozy, belly-warming notes you want as the temperatures dip, but clings to the waning days of warmth with the introduction of tart stone fruit. While the season continues to try to make up its mind, I've made up mine—gonna drink a few of these.
READ. // "The tunnels are too small to allow the heat to escape, effectively turning the Tube into a giant underground oven. Gaze absent-mindedly out of the window on the Central line and you'll see cables and panelling whizzing past just inches from the train itself. Above them, London's cloying clay keeps all that heat locked in." This fascinating piece looks at why London's Underground system, and in particular the Central Line, is so unbearably hot in the summer.
LOOK. // Having graduated from the same university as me a few years prior, I'd seen Ben Edmunds' expressive and exploratory abstract works dotted around during my time there. His website is invariably open amongst the sprawl of tabs in my browser, meaning I find a new favorite on a weekly basis.
DRINK. // TRVE Brewing's Cosmic Crypt
The last night of my trip to Denver was spent drinking TRVE's Cosmic Crypt at the source, propping up the bar with a book in hand. After a whirlwind trip that included GABF, its easy-going farmhouse character, subsequently gentle tartness, and light, fruity funk was exactly what I wanted. I don't think the four pack I brought back with me will last long.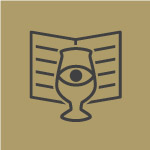 Curated by
The GBH Collective