These are the words, images, and beers that inspired the GBH collective this week. Drinking alone just got better, because now you're drinking with all of us.
READ. // "The Australians, meanwhile, slang-obsessed and giving little to zero linguistic fucks, have developed their own lingua franca of coffee drinks," writes Jordan Michelman for Sprudge in this interesting piece on the global nomenclature of coffee. While the above statement is true enough, as my Kiwi girlfriend will often attest, a Flat White is not a fucking Latte.
LOOK. // My fascination with the use of stark lines and bold colors in modern photography continues, with this simple-yet-striking series from Slava Semeniuta. Lap it up.
DRINK. // Garage Beer Co's Triangles
My fascination with hazy, juicy IPA continues with this elegantly pieced together beer from Catalonia's Garage Beer Co. I often find that this style craves the heft of alcohol to neatly stack the flavors it presents—in this instance, mango, lychee, and papaya—with precision. In Triangles, Garage has managed to do this with a beer at 5% ABV, which easily holds its weight against similar beers that pack in a couple more percentage points.
READ. // "He said that Anna had told him that she received around $30,000 at the start of each month and blew through it, and that she stood to inherit $10 million on her 26th birthday." This story of a con artist is opulent, crazy, and fun to read. (Sorry to the author, though.)
LOOK. // A man in South Georgia is trying to raise Spanish pigs to make Iberian ham. It's a fascinating story, but seriously, go look at the pigs.
DRINK. // New Realm Brewing Company's Euphonia Pilsner
When the former brewmaster of Stone came to Atlanta to open his new spot, I figured we'd all be raving about IPAs in no time. And yet, I keep finding myself coming back to this sturdy, German-style Pils. It's crisp, it's a touch hoppier than some might like, and it's perfect for watching people walk by on the BeltLine below the brewery's rooftop deck.
READ. // "In chess, it represents a move that results in checkmate. In proofreading, it means a space should be inserted. On Swedish maps, it represents a lumber yard." Like so many quirks in linguistics and symbolism, the Octothorp(e) has quite the origin story—especially given that most of the internet-using world knows it by its least interesting moniker: the hashtag.
LOOK. // Twitter user @gawanmac recently shared a magical tale of discovery, prompted by a mysterious symbol for a place of worship on a survey map. Come for the haunting photos of foggy woodland, stay for the magnificent, uplifting ending.
DRINK. // Burning Sky Brewery's Recusant
"We finally have the British answer to Orval don't @ me" was my immediate reaction to this Bretted IPA from the UK's leading producer of farmhouse beers. Like young Orval, it's oily, herbal hop character has yet to mellow, but the texture, balance, and complexity are unmistakable. It's simply the most exciting new beer I've tasted this year. Time to build a stockpile.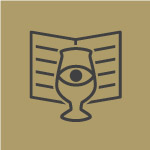 Curated by
The GBH Collective