These are the words, images, and beers that inspired the GBH collective this week. Drinking alone just got better, because now you're drinking with all of us.
READ. // "We have strong opinions about pretty much everything food-related—but perhaps nothing more than sandwiches. What some people think of as a lazy desk lunch, or a slap-it-together dinner, or what you order as an excuse to eat a bunch of french fries, we think of as an art form." A couple of months ago on the Fervent Few Slack we got into a multi-hour debate about what makes a sandwich. As if by magic, this month's Bon Appetit cover story is the A-Z guide to sandwiches.
LOOK. // Demi Adejuyigbe has been doing hilarious parodies of Will Smith rapping the credits to modern movies. Here, he sums up my feelings on Ready Player One in under 60 seconds.
DRINK. // Transient Artisan Ales' Flightless Pale Ale
On my way back from Grand Rapids last weekend I stopped at Transient expecting to love and leave with cans of their NE-style DIPA Juice is Loose. It was tasty, but Flightless was special. Light in body, it's a 5.5% Pale Ale that's full of dank citrus with a white wine finish from Nelson Sauvin hops. I left with a four pack, but should've bought a case.
READ. // "People don't realize that it took years for [Jimi Hendrix] to get the acclaim that he has now. You look at the charts back then and he was at No. 300. He didn't have hits." Strokes singer Julian Casablancas says a lot of interesting—and sometimes questionable—stuff in this Vulture interview. David Marchese is so good at his job.
LOOK. // One of my favorite parts of living in Atlanta is all the dope street art. Shoutout to Curbed for showing off some of Cabbagetown's finest.
DRINK. // Three Taverns Craft Brewery's Rowdy and Proud IPA
Released a week ago today in support of Atlanta's soccer team, this pleasant hoppy thing carries a nice haze and loads of citrus notes. Pairs well with scarves, chants, and record-breaking attendance.
READ. // "I wake up early. Well, I say early. Probably like 12 in the afternoon, or 10." After my most recent Banquet and Chill post, a number of folks sent me this short profile of how A$AP Ferg spends his Sundays. Turns out, me and Ferg are kinda kindred spirits. Hit me up, Ferg.
LOOK. // Photographer Reuben Wu uses drones to illuminate mountains in the dead of night and, in some cases, creates a halo effect above them. Looking through the entire Lux Noctis collection results in an incredibly eerie and unsettled feeling that you can't quite put your finger on.
DRINK. // Monday Night Brewing's Hello Beautiful Wild Ale
For various reasons, I've forgotten about many of the beers I drank in Atlanta last weekend. But it would be impossible to not remember Hello Beautiful. Imagine a beautiful Saison filled with blueberries that fermented in their skins to the point they exploded. That's what it tasted like, and that's how Monday Night's head brewer Peter Kiley explained it to me. I think.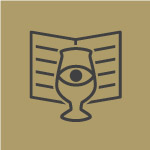 Curated by
The GBH Collective