These are the words, images, and beers that inspired the GBH collective this week. Drinking alone just got better, because now you're drinking with all of us.
READ. // "This book offers a different way to learn about wine. Not by region. Not by grape. Not by Old World versus New World, but grounded in the soil and place first." Alice Feiring brings the heat again in the form of some bedrock gospel.
LOOK. // Intriguing, beautiful, appalling, mystifying, and downright creepy at times, this film about the small community of Uncertain is a look under an undisturbed rock in rural America. Oh, and it has jaw-dropping cinematography to boot.
DRINK. // Side Project Brewing's Längst
Längst is a bourbon barrel-aged Adambier, a historical style which I regularly describe as a smoked German Barleywine that comes from Dortmunder. Längst is also a supreme example of the style. My girlfriend recently suggested that the exploration of intentional oxidation is something that'll soon develop in the beer world, and I think she's right. Jura wines have a place in the wine lexicon, after all. This may be part of the revolution as more producers explore and taste delicious examples like this.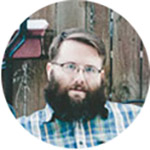 READ. // "Andre tells a compelling story. Let's face it, there are whole lot of wines out there, and we have to make a convincing argument to wine buyers. Without a story — it's just juice." An interesting look at how Andre Hueston Mack is making his mark in wine through telling his unique story.
LOOK. // Jan Pyper's use of light is stunning in this series about activities done under the cover of night.
DRINK. // Perennial Artisan Ales' Owen
A gentle use of Brettanomyces and subtle Mosiac dry-hopping results in a complex but easy drinking (4.6% ABV) Saison.
READ. // "I got an email from (Microsoft chief executive officer) Steve Ballmer, which was unusual for me. It was pretty short. It basically just said, 'Steve Jobs is mad that you bought Bungie, call him and calm him down.' And then it had a number. Okay, I guess I have to call Steve Jobs." I used to write and record myself talking about video games, and for years I was obsessed with Halo. This is the most complete account of the making of it.
LOOK. // I got really into smoking meat in the last 18 months. I've learned so much from watching this guy's videos. He keeps everything really simple and it's fun watching his videos get better as he learns how to use his technology.
DRINK. // Warpigs Brewpub's Lazurite IPA
It has the mouthfeel and look of an NEIPA, the bitterness of a West Coast IPA, and the unmistakable attitude of 3 Floyds. The can may be all-black but the beer inside is bright and juicy. I hope this isn't something I have to chase—I wanna keep it in my fridge year-round.