These are the words, images, and beers that inspired the GBH collective this week. Drinking alone just got better, because now you're drinking with all of us.
READ. // GBH's own Bryan Roth breaks down the subjectivity behind what it means to be the "best" in beer.
LOOK. // Stunning aerials from photographer Jamey Stallings the evolution of Ivanpar Solar in the Mojave Desert. An otherworldly look at one of the world's largest solar operations.
DRINK. // Austin Street Brewery Patina Pale Ale
Austin Street's flagship pale ale is bright, citrus forward, rounded and balanced, and now available in a 16-ounce can, it's your go-to summer block party crusher. Get to Portland for this one...
READ. // "This is why Instagram stunt food works: It transforms an indulgent meal or snack from a physical activity to a status performance." Take parts as you wish to connect to the culture of beer, whalez and how we view the importance of social media.
LOOK. // A collection of photojournalists are sharing visual stories from across the country covering topics of the environment, health, community and more. Moving stuff.
DRINK. // Highland Brewing Daycation IPA
It's taken a while, but some breweries are starting to figure out the secret to session IPAs. For my taste, it's not easy to find versions of the style the hit the right notes for body and hop use that don't come off as hop water, but Highland's brewmaster, Hollie Stephenson, is a whiz with lupulin. There's a surprising lemony finish on each sip and it never feels thin. Add this to your list of low-ABV IPAs to seek out - it was recently ranked #4 by Paste among their "Best Session IPA" rankings.
READ. // As a painter, the nuances of color (even between varying shades of something as basic as "red") always fascinates me. Long before synthetic pigments were made in labs, there were some truly beautiful colors derived from some odd sources.
LOOK. // "In 1944, Harold Fisk had been following ghosts for three years. His ghosts were of the meandering Mississippi. A river, big or small, doesn't stay still – as its waters flow it carves out new paths in a route towards its ultimate destination." These fascinating maps are real representations of the changes of the Mississippi River, but they read as gorgeously abstract ribbons of color snaking over a technical drawing.
DRINK. // Solemn Oath's Conquest
This was a colab between SOB & The Bruery. I have been hanging on to a few bottles since the release in 2015. I'll admit I remember it being much more boozy on release day, age has mellowed out this Belgian-style tripel with cocoa nibs, toasted coconut, vanilla, and cinnamon nicely. Was a perfect type of special occasion beer to open with some artist friends in MI that I knew would appreciate the over the top packing for the bottle.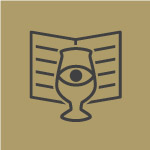 Curated by
The GBH Collective