These are the words, images, and beers that inspired the GBH collective this week. Drinking alone just got better, because now you're drinking with all of us.
READ. // "'It doesn't have to be that way,' says Rock, rubbing his red eyes. 'You can be fucking nice.'" This Rolling Stone cover story is a disarmingly personal look at the long, successful, sometimes-depressing life of one of our greatest comedic talents.
LOOK. // My buddy J Trav is obsessed with his drone. Here, he uses it to film the stunning new video for his band, Sealions.
DRINK. // Ballast Point Brewing Company's Unfiltered Sculpin
This new take—a slightly hazier, citrusy, and surprisingly crushable 7% ABV—on an old favorite accomplished something that most IPAs can't for me these days: it prompted me to have a second one immediately.
READ. // "We're seeing the punk-like anger of youth begin to fade in the speciality coffee industry. We're beginning to see the rise of passionate moderates." So much of what coffee expert James Hoffmann wrote in his recent blog post rang true to my own thinking and that's because much of it applied seamlessly to the beer industry. We're living in the age of passionate moderates.
LOOK. // I love the liberal use of on-trend pastel shades in this collection of paintings from artist Erica Beck. Muy Bueno.
DRINK. // Brasserie de la Senne's Taras Boulba
I asked myself the other day, "Is this hoppy Belgian Pale Ale the best beer in the world?" And while it sat foaming away in a glass in front of me, I concluded that it almost certainly is.
READ. // A little history behind one of Chicago's most iconic pieces of public art, the Picasso at Daley Plaza, on its 50th birthday.
LOOK. // "Twitter account Cinema Palettes takes screenshots from classic films and translates them into 10-part color palettes. Though based on a momentary still, each spectrum of shades seems to encapsulate its movie's overall mood."
DRINK. // Crooked Stave Artisan Beer Project' Cerveza Sin Frontera
This is a collaboration between Crooked Stave (where this bottle, dated December 2014, was brewed), Jester King, and Brasserie Trois Dames. It uses the same base recipe at all three breweries, but allows the wild yeast and bacteria at each brewery to work their magic. Similar to an Oud Bruin, there's tons of dried berry/cherry, and the flavors from the sherry barrels are present without being overwhelming.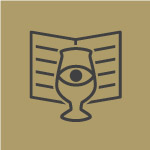 Curated by
The GBH Collective