These are the words, images, and beers that inspired the GBH collective this week. Drinking alone just got better, because now you're drinking with all of us.
READ. // "If 'Idiocracy imagined that America would one day amuse itself into ruin, then Silicon Valley offers a compelling case for how we'll go about doing it—not in spite of our best and brightest, but because of them." Mike Judge is such a legend.

LOOK. // Christoph Niemann's illustrated Norway travelogue is just delightful. Who wants to go on a polar-bear-watching cruise with me?

DRINK. // Monday Night Brewing's Tears of My Enemies
This Scotch barrel-aged Imperial Milk Stout (with coffee, LOL) is a Don't Drink Beer parody video waiting to happen. And yet! It's smooth and tasty and sweet and complex and somehow all of these things manage to stay out of the way of each other so you can just enjoy the beer.
READ. // "The creator of "Charging Bull" is charging its new neighbor with violating his rights. Arturo Di Modica, the sculptor who created and clandestinely installed the 2,000-pound bovine monument to American resilience in Manhattan's Financial District in 1989, claims the recently installed "Fearless Girl" violates his copyright and trademark, and that it illegally commercializes his work." I find this all a little curious indeed.

LOOK. // I first became acquainted with David R. Haper's work last summer at the Kohler Arts Center (WI), and his work continues to excite me in that weird visceral way. It makes me uncomfortable, and yet, I can't look away. His new work once again evokes that nervous excitement.

DRINK. // BuckleDown Brewing's Belt & Suspenders
I will admit, it took me a long time to develop a taste for IPAs in general. But, this particular one packs a balanced mix of big citrus (grapefruit) and resin-y pine. It's a great example of the standard American-style IPA, and since it's local to the Chicago suburbs, I can always find cans of this that are less than a week old. This is not a terrible problem to have. Or a problem at all, actually.
READ. // "Romantic facts? You know, those (false) stories that have gotten repeated so often they've come to be accepted as truth." Jeff Alworth digs deep and explores some of the tall tales that permeate beer's history and culture. It might be best to read this one as you enjoy a glass of Milk Stout.
LOOK. // Heavy, intricate linework and hauntingly inspired visions are what make up Mike Lawrence's fantastical creations. His work has been featured by brewers like Tired Hands and bands like Pallbearer.
DRINK. // Bearded Iris' Acid Test
A recent canned offering from the good folks of Bearded Iris in Nashville, this Pale Ale draws inspiration from both the "prototypical" East and West coast styles. A hazy, bright beer that tastes like strawberry clouds up front, Acid Test looks, smells, and drinks like the East, but finishes with a slight bitter bite, reminiscent of the West. At 5.2% ABV, this easy-drinker has just about everything going for it in the best way.
READ. // "If Pure Comedy were a movie, it would be the first 10 minutes of Wall-E." Father John Misty might not be the most popular man in indie music, but he might just be the most relevant at the moment. Lindsay Zoladz takes a stab at contextualizing his new album—and the Father himself—in these post-truth times.
LOOK. // French-born, Berlin-based illustrator, Léonard Combier, started doodling in a friend's passport one day during class. That one drawing sparked an ever-expanding collection of intricate and off-kilter passport art that leaves the document still usable at customs. At least that's what he says.
DRINK. // TRVE Brewing's Burning Off Impurities
Apologies in advance to all the DC breweries I enjoyed at the Craft Brewers Conference last week. Burning Off Impurities is the one beer I can't get out of my head after a week full of fuzzy memories. The slightly tart finish on the end moves perfectly into the fruity acidity of the Huckleberry coffee addition, creating an unforgettable flavor profile fit for an Uppers & Downers case study.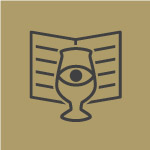 Curated by
The GBH Collective