These are the words, images, and beers that inspired the GBH collective this week. Drinking alone just got better, because now you're drinking with all of us.
READ. // "Why would I do that when I can make $6,000 a day just watching TV?" This GQ story about a weed delivery service called Green Angels is just incredible.
LOOK. // Linda McNeil is a designer, motion graphics artist, and one of my coworkers at MailChimp. Her shit rules.
DRINK. // Creature Comforts Brewing Company's Tropicalia IPA
In this age where there's more beer to drink than ever before, sometimes, it's nice to be able to just drink a well-made beer over and over. And now that Creature Comforts is making more beer than ever before, I can get this dry, citrus-y, just-about-perfect IPA whenever I want. What a time to be alive.
READ. // "'Bouche à oreille' means word of mouth, a form of advertising that may now be less necessary for Mrs. Jacquet's establishment." Even the world's preeminent restaurant rating guide fucks up once in a while. Like when Michelin awarded one of its coveted stars to the wrong place.
LOOK. // Adam Wilkoszarski's "After Season" photo series is a thoughtful study of what a vacation community looks like after everyone leaves. With the way the images are framed, and the desaturated palette he achieves, you begin to wonder just how long they've been gone.
DRINK. // Market Garden Brewery Echo Sierra Bravo ESB
I love me a good Bitter. And thankfully, ESBs are right in Andy Tveekrem's wheelhouse. The classic style aligns with his, and Market Garden's attention to detail, and the result is picture-perfect, biscuit-laden, bit of malty glory with just enough hop bite to balance out. The only knock is it wasn't on cask.
READ. // "What makes an "important" beer? To me, the definition is simple: It's one that either changed consumer tastes or how breweries approach making beer." The Chicago Tribune's Josh Noel continues a fun chain letter of sorts, pushing the conversation of America's legacy beers.
LOOK. // A real-life visualization of how #content gets #engagement. Journalist Tin Fisher and architect/designer Jug Cerović visualize geotagged Instagram hashtags as NYC subway stations.
DRINK. // Melvin Brewing Drunken Master
The magnitude of this DIPA that includes 3 pounds of dry hops per barrel doesn't sound outlandish in today's industry, but the flavor Melvin coaxes out of it does. Once I got past typical citrus and green onion flavors, I was surprised to find hints of strawberry - the kind of fruit taste you'd find from fresh Ethiopian coffee beans.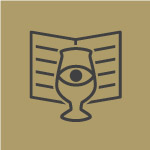 Curated by
The GBH Collective