These are the words, images, and beers that inspired the GBH collective this week. Drinking alone just got better, because now you're drinking with all of us.
READ. // "I don't think there's a real/true understanding or appreciation of the level of demand being created around some shoes and the impact on the consumers and retailers that are selling them." They misspelled "beer."
LOOK. // President Trump is set to shrink national monuments in Utah, so before the government rolls back protections of land and wildlife, admire this beauty—taken in the aptly titled "Valley of the Gods"—by photographer John Fowler.
DRINK. // The Bruery's Midnight Autumn Maple
A wonderful effort of taking the world outside and putting it into a liquid experience. Restraint and nuance allow a variety of ingredients each their time to shine. Vanilla and maple cascade, but never push their sweetness.
READ. // "Twitter may defend its actions (or inactions) around harassment as an act of free speech, but it's really an act of commerce. As long as that tap keeps producing, no one will move quickly to shut it off no matter what poison it delivers." Joshua Topolsky is ready to write an obituary for the internet.
LOOK. // eSports are real and they are really being watched by a lot of people. This video put together by League of Legends does an incredible job of showing just how large the crowds have gotten.
DRINK. // Sketchbook Brewing Company's Insufficient Clearance Hazy IPA
I'm drinking my last can of this as I type these words. This beer is just as delicious as any other juicy, hazy, fruit bomb of a NE IPA you've had this year, but what makes it truly remarkable for me is its 5% ABV.
READ. // "Prior to the bikini bridge, societal norms already suggested that women should be conscious of their stomachs and hips. The difference is that nowadays social media users can create an entire body image phenomenon through a series of keystrokes and branded, catchy nicknames." I had no idea the "bikini bridge" trend was a 4chan hoax. This tracks the timeline of the trend and shows how social media can directly impact society as a whole.
LOOK. // Given that Broadsheet has freelancers out and about all the time, naturally they snap a few photos of pups enjoying bars and restaurants around the country. There are truffle dogs, winery dogs, dogs at breweries, and dogs hiding under chairs. My favorite is all of them.
DRINK. // Burning Sky/Fork Brewing's Les Amis Du Brassage
A collab between UK cult favorites Burning Sky and Kelly Ryan from Fork Brewing in Wellington (NZ), this Saison spent three years in oak with a cocktail of yeast and bugs. Then it was blended with a small portion of Lambic from Girardin. The result is a gently tannic, citrus cocktail with a gentle sourness that finishes dry. Lovely stuff.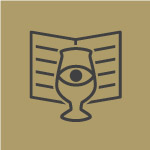 Curated by
The GBH Collective