These are the words, images, and beers that inspired the GBH collective this week. Drinking alone just got better, because now you're drinking with all of us.
READ. // "It's worth noting that appetites like Batali's are, for the most part, not permitted to women; neither are bodies like his, with their evidence of hungers fulfilled." Helen Rosner on Mario Batali is everything.
LOOK. // In future moments of despair, when I'm perhaps lacking the confidence I need as I'm marching into a difficult situation, I'm gonna channel Norman.
DRINK. // Almanac Beer Company's Tropical Galaxy
If I'm being totally honest, it's the artwork on the label that got me. Then I saw the name of a brewery I trust and a description—dry-hopped farmhouse ale aged in oak barrels with mango, lime and coconut—that told me the odds were good I would enjoy this thing. And I do! It's punchy and tart, lively with just the right amount of attitude. I'd be happy to find myself on another planet with this.
READ. // "I knew I had to push through so I gathered myself, put my head down and pulled out one quenelle of ice cream after another. My concentration was so intense, everything else faded into the background and I became a quenelling machine. " I'm not sure what the takeaway from this is, but it's a nice read about pressure, working with your heroes, and making the perfect quenelle.
LOOK. // This short—13 minutes—documentary shows off the good that Skateistan is doing for children in Afghanistan, Cambodia and South Africa. The charity engages communities through skateboarding, and uses it to help those who otherwise wouldn't have a chance to play sport or study.
DRINK. // Fixation Brewing Co.'s Obsession Session IPA
The second "core" beer from Fixation doesn't stray from their script: brewing nothing but IPA. At first this came across my palate as a touch watery, an issue I have with session IPAs as a whole, but after drinking two bottles in a very short amount of time I had to restrain myself from finishing off the entire six pack. There's stacks of vibrant stone fruit flavor and a great, clean bitterness.
READ. // "The act of organizing information—even notes about plants—is never neutral or objective. Anyone who has used index cards to plan a project, plot a story, or study for an exam knows that hierarchies are inevitable." This piece outlines how a new form of information organization overload started with Linnaeus, and how our thinking is still framed by his choice of paper even today.
LOOK. // As a 14-year-old, I tagged along with my dad to a dirt racetrack in Pennsylvania where late-model cars raced sloppily, and sometimes elegantly, around a muddy oval outside of town. Ten straight hours of an exciting buzz from the engines and an occasional groan from the crowd. My dad was on the pit crew, and it was the first time I was invited to come along, but you had to be 17 to get in. My dad calmly looked at the gatekeeper with a casual confidence that made him feel silly for caring, said nothing for a moment, then waved us in. That's the day I learned that rules like that are optional. Thanks for the flashback, Mogwai. What a day.
DRINK. // Great Raft Brewing's Come What Mayhaw
This gorgeous, soft, bright golden sour is a collaboration between Shreveport, Louisiana's Great Raft and Indiana's Upland. "This beer started our sour program," Great Raft founder, Andrew Nations told me after he descended from the third level of the high racks of the cooler fetching me one of the last remaining bottles. "Our house culture is basically what they brought with them and pitched into the foeder." I drank it alongside some Peruvian ceviche and rotisserie chicken in Chicago this week, and the explosion of mayhaw fruit flavor complemented the acid and char.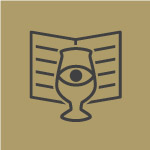 Curated by
The GBH Collective