These are the words, images, and beers that inspired the GBH collective this week. Drinking alone just got better, because now you're drinking with all of us.
READ. // "The can is now pretty well accepted among craft beer drinkers and this is a beer that has more of the easy drinking characteristics maybe that you associate with something in cans." Never thought I'd see a Jim Koch quote focusing on the vessel in which beer is placed as a sign of quality and experience.
LOOK. // Photographer Michael Eastman has a new exhibit, so here's a sneak peek of beautiful and sorta haunting spaces in Buenos Aires.
DRINK. // Founders Brewing Co.'s Breakfast Stout
As a seasonal release that's been around for years, it doesn't carry the sexy cache of its variant cousins, Kentucky and Canadian Breakfast Stout. But its chocolate and roast flavors balance in harmony for a pretty perfect experience that won't break the bank. Along with North Coast's Old Rasputin, it might be one of the best Imperial Stout deals you can find.
READ. // "Everyone from my grandma to Steven Spielberg to the psychic who said that there was a ghost living in his dining table would say the same thing: He makes you so damn happy to be alive." I've had in-person conversations with no less than half a dozen humans about this ridiculous Jeff Goldblum profile.
LOOK. // To earn some extra credit in a biology course at Morehouse College, Julien Turner made this delightful Lil Uzi Vert parody video. If it was up to me, dude would get an A+ in his class.
DRINK. // The Bruery's Bois
We spent last Saturday on my porch, cracking beers, scarfing cheese and crackers, and indulging in leftover Halloween candy. This 15% Old Ale was busted out around 4pm for some reason, and passed around the crew in tiny glasses. The unique complexity of what came to be known amongst the group as "the raisin beer" reminded me how fun it is to turn people on to new stuff.
READ. // "These are the five best styles of beer. The first is Gueuze, the second is Pilsner, and the third? Well, that's up for debate." Jeff Alworth serves up his 9.5 theses on beer.
LOOK. // Textile artist Victoria Villasana uses colorful yarn to embroider vintage photographs, adding vibrancy and life and an additional layer of depth to the images. I'm particularly fond of this Jimi Hendrix piece. Choose love.
DRINK. // Deciduous Brewing Company's Blade
Deciduous just celebrated two years of brewing beer in Newmarket, NH, by releasing a mixed four pack. One of those beers is Blade, an easy-sipping, delicious, juice-bomb of an IPA. This one checks all the boxes when it comes to what's hot here in New England.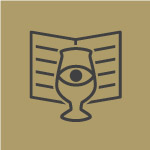 Curated by
The GBH Collective