This is the artistic and intellectual inspiration that has burrowed its way into the mind of the GBH Collective this week. Great reads, stunning images, and beers that chart new territory. Drinking alone just got better, because now you're drinking with all of us.
READ. // "Thanks to the people who made it, sold it, protested against it, rapped about it, and of course drank it, the history of malt liquor is a spectacular and uniquely American shitshow. And here it is, in all its glory." Chart course through the wild, surprising, and downright entertaining history of malt liquor. The Sleazy and Spectacular History of Malt Liquor

LOOK. // Illustrator Dean J. McKeever uses line work to create clean drawings that capture the imagination and inspire a curious state of mind. He's also the dude behind the artwork for Tree House Brewing Company, where a heavy emphasis on color comes into play with the black and white illustrations to create compelling and bright images for Tree House's beer cans.
DRINK. // Monkish Brewing Company's Run the Pigeon
The second canned IPA release from a Belgian-inspired brewery that historically brewed beers that were categorically not IPA. This juicy, hazy, hop bomb trends very much toward the New England/Vermont style. The soft mouthfeel and yeast-driven IPA character marry perfectly with the fruity and floral character thrown from the combination of Nelson, Amarillo, and Galaxy hops. A killer Monkish-made IPA, can't wait for more.

READ. // "Most animals are hiding, you actually never get to see them and you might be led to believe there's nothing out there." How photographers are using camera traps to illuminate the world's most elusive animals. (Thankfully capturing beer in the wild is a bit easier.) Photographing Wildlife Without a Photographer
LOOK. // You, too, can sound smart and give a rousing TED Talk.
DRINK. // Half Acre's Powder Blue IPA.
Like Steph, I feel the weather is heavily influencing my enjoyment of this Half Acre-Short's collab beer—an IPA featuring Mosaic, El Dorado, and 130 gallons of pureed blueberries. It has the slightest tang, the slightest tartness, and the slightest purple-red tinge to the head, all echoing the slight promise that soon we'll be in full-blown summer mode.
READ. // "'Greenterior: Plant-loving Creatives and their Homes' documents the homes of 18 designers and artists through the lens of their abundant houseplants." I stumbled upon this book at a boutique shop in Toronto and dug the photography, but was particularly keen on the plant life thread that ties the various creative people they profile together, displaying their spaces and the plants within them. Greenterior
LOOK. // Though released in 2008, it's a Swedish film and perhaps under the radar a bit. A cinematographer's dream, this is not your average horror movie. Attention to detail, framing and color palette restraint makes this film much more than your typical gor-hor movie.
DRINK. // The Veil Brewing's Crucial Taunt Double IPA.
Having just opened on April 16, The Veil comes out of the gate with a big, punchy, juicy double IPA. Drawing similarities to other Northeast IPAs, this one is a juice bomb and my absolute favorite when I tried it at the brewery. Crucial Taunt has huge tropical fruit notes up front while not shying away from some bitterness at the finish. The Wayne's World reference doesn't hurt it either.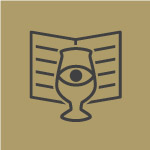 Curated by
The GBH Collective