These are the words, images, and beers that have inspired the GBH collective this week. Drinking alone just got better, because now you're drinking with all of us.
READ. // "But tonight I'm not in Williamsburg. I'm in Indianapolis. And what's playing in Indy, on this raw December night in Fountain Square, is a specific language of food, style, and cultural appreciation now spoken all over America and, damn, all over the world." Is your city Brooklyn yet? Brooklyn Is Everywhere.
LOOK. // Photographer Dave Sanford doesn't move mountains—they move him. And these are the liquid kind found in the Midwest.
DRINK. // Une Annee Le Seul Series
After a couple years of finding his way, founder Jerry Nelson is getting in to a groove ahead of his new brewery and taproom project in the Chicago burbs. His newest hit is a series of spectacular fruited sours using a solera method (blending old and new beer continuously) called Le Seul. The latest, Le Seul V is made with Kiwi and on tap at Plank Road Tap Room for Chicagoland drinkers.
READ. // "Small brewers make some incredibly flavorful beers; it is their intention to do so, but flavor is just one element of what makes people connect with craft beer." A case study of Penrose Brewing's Eric Hobbs on the redefinition of beer and why it's so special. The Reason It's so Difficult to Answer, "Why Craft Beer?"
LOOK. // Darius Twin, the haunting and compelling and bright light-art media of artist Darren Pearson.
DRINK. // Cellarmaker Brewing's Dank Williams.
Cellarmaker's first foray into bottling beers—big, dank, bold, hoppy beers, to be exact. This Double IPA marks the first release in 22 oz bombers for these guys, and they plan to release one hoppy beer in a bottle each month. Limited run, sold at the brewery only, drink fresh and get it gone. Delicious stuff.
READ. // "The craft beer boom in the United States has placed unprecedented demands on malting barley supply." My Dad, Frank, works closely with the malt industry in the U.S. I asked him to write for me about the problems the industry may face as it stretches itself further than it ever has before. The Malt Profile - Malt and Barley Blues
LOOK. // Photographer Robert Götzfried captured these stunning images while driving the back roads on a trip from DC to Memphis, TN. I just can't get enough of the composition and colors.
DRINK. // The Five Points Brewing Co. Pale Ale.
I've worked a few shifts at my local pub recently and nothing has beaten the post shift thirst more than this mellow and citrus-y Pale Ale from The Five Points, who are based in Hackney, East London.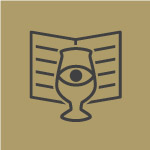 Curated by
The GBH Collective