These are the words, images, and beers that inspired the GBH collective this week. Drinking alone just got better, because now you're drinking with all of us.
READ. // "Atlanta is the genre's undisputed capital and has been since the turn of the century, around the time Outkast's 'Ms. Jackson' seized control of FM radio and MTV." I put on for my city.
LOOK. // David Sizemore is a man of many talents—illustration, design, art direction, posters, etc. He's also a goddamn goofball and—full disclosure—one of my favorite co-workers.
DRINK. // Prairie Artisan Ales' Coffee Noir Imperial Stout
Coffee Noir leads off with chocolate-y, booze notes on the nose. The first sip hints at fruits, but not much coffee. As it warms a little, the java shows up, but it's standoffish. I drank this before dinner, which was a mistake—should've saved it for dessert.
READ. // "...you would think the people in control would make everything authentic, including whatever is played on that player piano. It would be from that time period. And when it's not, it's that subtle reminder that, 'Wait, there is something not right. This is not real.' It's just such a powerful tool that only music can do."
If you were sucked into Westworld the way that I and many others were, surely you can appreciate the juxtaposition of a modern soundtrack played through the antiquated piano player in Westworld's Mariposa Saloon. Each time a contemporary song was played, it was equal parts jarring and intriguing. Westworld's composer discusses this tension and his thinking behind the music.
LOOK. // Matt Eich has spent over ten years documenting rural Ohio. His images depict a harsh reality, however, they're powerful and evocative, offering a window into a world many will never know. The best documentary photographs always seem to do this.
DRINK. // Cigar City Brewing - Vanilla Hazelnut Marshal Zhukov
Many years ago, when I tried Marshal Zhukov for the first time, it kind of blew my mind that a stout could be that heavy, that viscous, that oily in the glass. Those were the early days, every beer was new, and that one stood out as a different type of experience. Still, many stouts later, MZ holds up as one of the more unique offerings I've come across. When they took that same stout and added vanilla and hazelnut, I was immediately intrigued. Imparting more noticeable sweetness, this is that same stout with a bunch of vanilla and a touch of hazel-nuttiness.
READ. // "The juxtaposition of the "real America" with "elitist America" exposes the actual meaning of all the endless denunciations of the elite. It is not anti-elitism. It is anti-intellectualism." Because this political season is a car crash and I can't look away.
LOOK. // Funniest animal photos of the year. Juvenile? Maybe. The reason the internet was invented? Definitely. Plus, a frog kissing a chipmunk is what the world needs right now.
DRINK. // Flying Dog's "Nice" Holiday Milk Stout
The companion to the very odd "Naught" Eggnog Ale, this milk stout brings a lot to the Xmas dinner table. What makes it "holiday" isn't listed on the label, but I'd guess cinnamon, nutmeg, and perhaps a touch of butterscotch and toffee.
READ. // "...It's worth noting that Starbucks normalized flavorful coffee. Variety beer is headed the same direction." At least according to Joe Stange in this thought-provoking piece for Draft Mag.
LOOK. // Sometimes its something simple that gives you the most pleasure, like the thoughtful composition and colors presented in this short collection of photography titled "At Night 4" by Andreas Levers.
DRINK. // Augustiner Lagerbier Hell
I have palate fatigue and as a beer writer I'm supposed to be excited by the myriad variety beer styles that are constantly shoved under my nose. Right now, I'm not, but at least there's always Augustiner.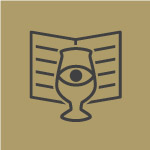 Curated by
The GBH Collective