These are the words, images, and beers that inspired the GBH collective this week. Drinking alone just got better, because now you're drinking with all of us.
READ. // "Our question: Is there room for American craft beer in China?" The short answer is yes, but the path one brewery is taking to succeed in the country provides an interesting road map for others. What is the potential of the Chinese craft beer market?
LOOK. // 2016 Election still on your mind? Maybe you stocked your fridge with beer to celebrate or commiserate? No matter which candidate you supported, you can appreciate this history lesson from The NY Times.
DRINK. // Boulevard's Smokestack Series: The Sixth Glass Quadrupel.
Among the best American Quads I've had, let alone an affordable four-pack option for a 10.5% beer. It brings the classic flavor notes you'd expect: caramel, raisin, chocolate and dried berries. Pour a glass with your dinner.
 
READ. // "Back in December of 2001, Storm King Stout from Victory Brewing Co. was the No. 1 beer in the world." Aaron Goldfarb uses the Internet Archive Wayback Machine to great effect, analyzing the rarity factor in the BeerAdvocate "Top Beers" list over the last decade and a half. When Did Rarity Start to Equal Greatness in Beer?
LOOK. // Marc Burckhardt's paintings have an off-putting quality to them—highly detailed yet extremely graphic, they're at once captivating and haunting. The style lends itself perfectly to his most recent subject matter of fables and allegories.
DRINK. // Trillium Brewing Company's Fort Point Pale Ale
I walked into Trillium. There was no line. I bought 12 cans of beer and packed them away in my duffel. At the airport, I volunteered to get bumped from my flight for a $500 Amazon gift card and a free hotel room. I drank a Fort Point in that free hotel room while watching Westworld. It was a good day.
 
READ. // "He also taught me a valuable lesson in how not to cut a block of frozen beef straight from the freezer into steaks—a memorable afternoon that included the line, 'Kenji, go get me the hammer,' and concluded with shards of knife all over the kitchen floor." J. Kenji Lopez-Alt's food tome is nearly 1,000 pages of culinary joy. The Food Lab
LOOK. // You're probably still fat and happy from a delicious Thanksgiving meal shared with the family you love so dearly, which seems like the appropriate moment to remind you: you're going to die. Like, seriously. So I present you with Caitlin Doughty's Ask A Mortician web series—recommended watching for anyone who plans on dying.
DRINK. // Half Acre's Navaja.
First time I tried Navaja, I was on a family vacation. I took a drink and—in front of the virgin ears of six nieces & nephews—blurted out, "This is fucking delicious!" And now that Navaja is widely available in some gorgeous cans, you can readily imbibe this citrus-y, dank, slightly sweet Double IPA. Don't fear the reaper.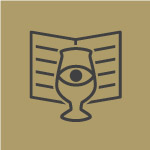 Curated by
The GBH Collective