"A man does not die of love or his liver or even of old age; he dies of being a man." — Miguel de Unamuno
Last year's modest experiment has become a real collaborative endeavor between Good Beer Hunting, Max Wastler of Buckshot Sonny's Sporting Goods, and Camp Wandawega. It's the biggest event they throw every year, and not just in terms of attendees. For two autumns now, a group of happy men have arrived at Camp Wandawega in Elkhorn, Wisconsin for a weekend of revelry, full of good food and beer, with only the days ahead to consider — knowing that these days would be largely what they made of them.
Max and I love the commonalities between chefs and coffee roasters, shop owners and artists, film makers and brewers. Living in Chicago, and traveling around the country, means we're lucky enough to meet these kinds of people frequently. And whenever possible, we spend our waking hours at their sides. Along the way, many of them become more than just inspirations — they become brethren.
To honor their work and generosity throughout the year, we gather as many of them as we can from around the country, and bring them together in one place — Camp Wandawega for the GBH x BSSG weekend known as Goodbeerbuckshot. An event that's not "held" as much as it is conjured by the very men in attendance — their good wills and collaborative spirits providing all the strength necessary for an amazing time.
The Welcome Wagon
Solemn Oath Brewery was the welcomer of warm souls that night. Camp always begins with intermittent arrivals well into the night as many of our friends pack up their day jobs, tap in their GPS, and chart a course for a place two hours NW of Chicago. The traffic gradually thins out, the sun goes down, and before they know it, they're idling over the gravel and dirt that crunches beneath their tires as they pull up and see the first familiar faces gleaming from the lodge.
Cases of New Glarus are unloaded like rations for the days ahead. Men are shown their beds and tents. And around 8pm we gather on the hill for the official welcome. The tables are full of charcuterie from Publican Quality Meats, and at the end, standing in the middle of a group of 50 men are John Barley and Paul Schneider describing the beers they're about to tap.
Wreckage Master, a big 8% West coast double IPA full of citrus and resin. Kidnapped by Vikings, a bold, piney pale. And the new collaboration with Hopleaf bar in Chicago, Big Box Make Magic, a belgian dubbel with tons of toffee, caramel, and fruity Belgian esters of raisin and cherry.
We kicked three sixtels and broke out the first bottles, but with experience as my guide, I issued a warning: "save your energy for tomorrow boys. This is only the beginning."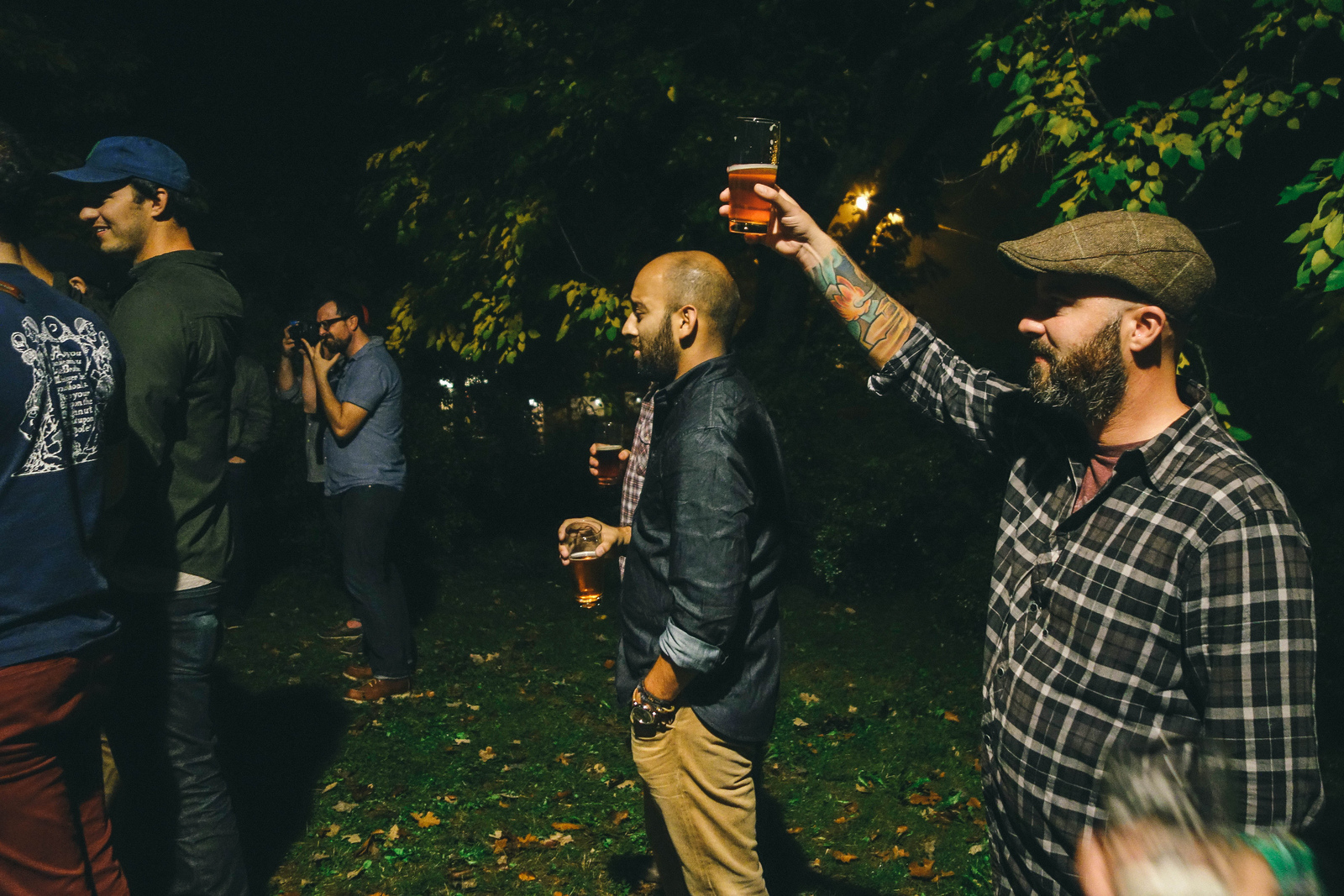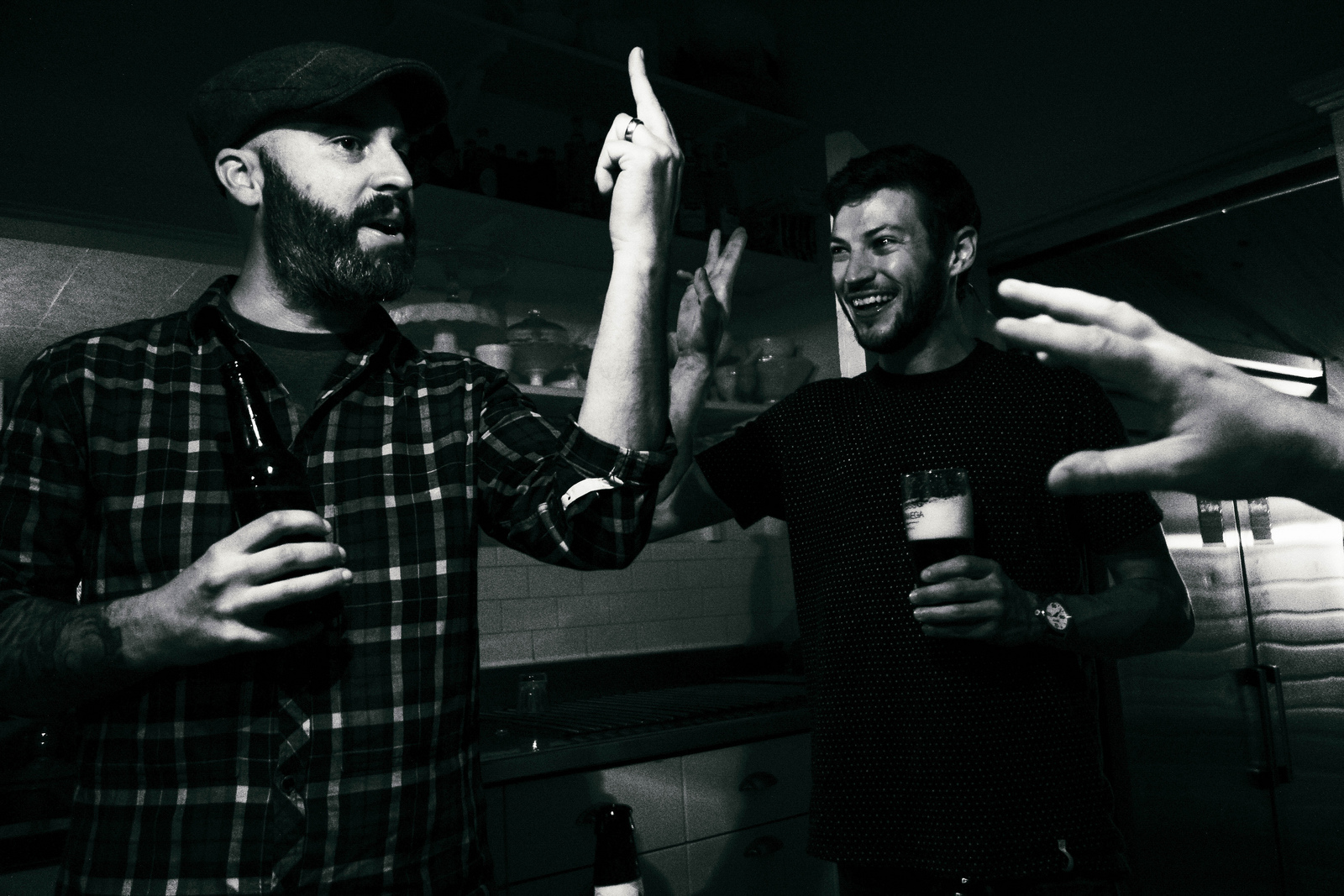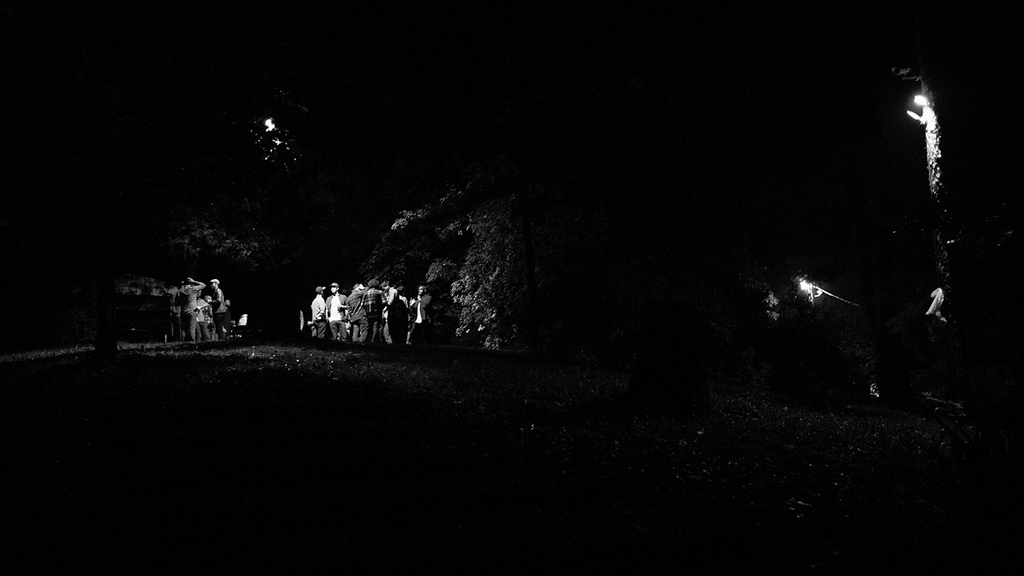 Rise and Shine
Fifty men rising within an hour of each other is a recipe for disaster. But this year we came prepared with the manpower necessary to help our crew recover, and sustain. Matt "Skittles" Sliwinski, sous chef at Longman & Eagle and the adjoining Saturday Sausage Shop, cooked up tray after tray of biscuits and gravy, dished out granola, fresh plums and yogurt, and finally opened the oven to unearth whole hog crépinettes covered in cheese grits, collards, and natural maple jus. Our eyes were wide. "Almost no one will eat more than one of these," claimed Matt. And we was right. Those protein nuggets kept us alive for hours.
Stephen Morrissey and Jay Cunningham, two friends from Intelligentsia Coffee pitched in and made endless cups of their special Kurimi Ethiopian release, sourced from one of the most pristine 20-bag lots they've ever found. The kitchen operated like a small cafe for more than two hours — with the grumbling of the burr grinder, the smell of the extraction — and finally, the sweet melon and lime of the roast confirming everything we anticipated.
And then the day becomes ours. Just as each man's belly relaxes, and his eyes start to look out past the small patch of land where we gathered last night, he realizes how little of the place he's seen. With the grounds now lit by a 10am sunlight, the lake is glistening thirty yards away. The rope swing sways. The treehouse rises above the open field. For first-time campers, it's a lot to take in. And they're paralyzed with what to do next — archery? hiking? canoe? Last year's campers break the silence. "Let's go shoot hoops."
photos from campers
Into the Wild
Each man finds his own way throughout the day — joining a small faction of adventure seekers for awhile. Then going off alone in a canoe for some all-too-rare silence out by the lake's other shores. And finally coming back to the lodge to shoot pool, darts, or simply drink in the company of other men, in the company of some records. I honestly have no idea what happens for most of the day — being off on my own adventures as I am — but what I do know, is that at some point in the afternoon, I start hearing less sheepish conversations that start with "so what do you do for a living?" and a lot more like "did you see Tristan hit the bullseye from the treehouse?!"
All the while, chef Cleetus Freidman from Fountainhead kept a watchful eye. As we burned through out breakfast, put our feet up, and opened a few bottles of Spotted Cow, he fired up the grill. The countdown to dinner had begun, and Cleetus had prepared a special menu for us all.
photos from campers
An Afternoon Offering
To tide us over, Cleetus offered some nosh — his famous smoked hummus. He set it on the altar of the outdoor church that runs alongside the lodge, and watched as we all gathered 'round. Used for local Latvian services during the summer, the chilly fall weather leaves the wooden, weather-beaten pews empty for any manner of communal gathering this time of year, and for the afternoon, we turned it over to one of last year's special guests, Phil Kuhl. Formerly the beer director at Sheffield's and Fountainhead, Phil is now a craft beer specialist at Wirtz Beverage in Illinois, representing breweries like Saison duPont, Greenbush, Deschutes and more. For this weekend, he broke open his own personal beer cellar, offering up some of the country's greatest beers in the name of a damn good time.
Aficionados clamored for a pour of Deschutes' Black Butte XXIV and XXV, it's reputation preceding it, as an epic imperial porter with dates, figs and cocoa nib. The Lambickx spurred new conversation — a variation on a gueuze style using a blend of three separate lambics. And many bottles later, the Indra Kunindra from Ballast Point in San Diego — a beer that changed many of the crew's perceptions on what a beer even is. Made with madras curry, caynne pepper, cumin, toasted coconut, and kaffir lime leaf, Indra Kunindra drinks like a light meal of its own.
photos from other campers
Meanwhile, the smells of grilled prawns and pork crept over the lodge. But so did the storms.
An unusual mix of weather conditions created dangerous winds and lighting all around us. For miles, the radar showed 70 mph gusts. But lucky for us, it also showed an uncanny separation in the clouds, forming a "v" as it split around Lake Wandawega, dropping only a good hard rain for an hour, and then clearing. Entire towns lost electricity for the night, but somehow camp dodged it all. Just in time for dinner.
The Beer Dinner
The Saturday evening beer dinner is the highlight of GBH x BSSG. And much as the day can send us off in a dozen different directions, it's dinner that brings us all back to the hill. And waiting on that hill alongside Cleetus was Tom Korder and Eric Hobbs of Penrose Brewing. Two former Goose Island veterans, the Penrose crew set out on their own this year to pursue Belgian-style beers in Geneva, Illinois. And while they ready their brewhouse for production this December, they spent the summer perfecting their recipes, which they selflessly tapped for dinner — all amazing signs of what's to come.
The Proto Gradus, a Belgian single, had a fruity ester nose, with a clean, floral hop profile that paired unbelievably with Cleetus' fire-roasted togarashi and lime prawn skewers. The sharpness of the charred lime and bursting prawn flavors ricocheted off the subtle bitterness of the beer, and the bright, savory spices were cooled by the light texture of the malts. The first toast of the evening was one of awe. Anyone familiar with these guys fully expected to appreciate a fine meal. But no one imagined we'd eat and drink this well.
Second was P2, a Belgian pale with notes of tropical fruit, clove, and a resiny aroma. What starts as sweet malt and Belgian candy sugar, finishes dry with a forward, but balanced, hop bitterness strong enough to cut through the silky fats and starch of Cleetus' butternut squash polenta cakes, bacon steaks and crispy kale. Both the beer and the dish played sweet against bitter, salty with savory, with incredible nuance.
Third, Navette. A Belgian-style black ale with an herbal, toasted aroma, smooth texture, and bitter chocolate flavor that turns from sweet to bitter. Alongside Navette, we lined up for slow roasted BBQ brisket, buttermilk bleu cheese mashed potatoes, and stewed greens. What Cleetus and Penrose were sharing with us a camp, with all the essential heft and rustic charm, was as good as anything you'd get in the city on a crew's best day.
And finally, long after the sun went down, and the toasts were made, and the friendly jabs between Solemn Oath and Penrose subsided, we did dessert. Devoir, a french-style saison with citrusy yeast esters, effervescent and airy, and mild hop bitterness that's subtly tart served with Cleetus' apple pie with cayenne whipped cream and burnt caramel sauce. As boisterous as the dinner began, it ended in sated silence.
photos from campers
Late night screening
Meandering down the hill, bellies full of brisket, polenta, and greens, we washed dishes, moved tables, and struck the scene. A few men grabbed a post-dinner smoke. Others, a few winks. All the while, yet another effort was being made to host Sam Macon, and a screening of his documentary, Sign Painters. As co-director of the film, Sam welcomed us to consider the disappearing hand-craft of sign painting, and its role in American's past and present. The implications of a dying art wasn't lost on this group — about a quarter of them craft brewers or distributors who have seen their own craft come back from the brink of extinction. By this point, it's fair to say we were all a bit heady. And Phil Olson, bar manager at Longman & Eagle, took advantage of the moment to haul out a large pot of beer punch — consisting of Basil Hayden's, oranges, sugar, ice, and a porter beer.
The credits rolled, the crew applauded, and with night getting chilly in the church pews, made their way to the bonfire for the bottle share. After all we'd drank, and all we'd eaten, for some, it's the bottle share that inspires the most excitement. Bottles that have been aging for years are brought out. New rare releases are put on the table. And beers from far away are spirited into camp over long distances, and finally opened around the fire. Well into the night.
Fuel for the Road
Sunday morning starts out a bit slower than the day before, but just as critically, we share one last meal together. Sam Parker of Context Clothing in Madison, Wisconsin, took on the challenge this year, recruiting help from early risers to make eggs, grill meats from the Underground Food Collective, and coffee from Kickapoo. This all-Wisconsin breakfast may have saved some lives. Actively working against those lives was Andres Araya of 5 Rabbit Cerveceria. As we chowed down and caffeinated, he offered up a couple beer cocktails — a michelada with the namesake 5 Rabbit golden ale, and a citrusy concoction with 5 Lizard, a passion fruit and coriander wheat beer.
By midday, we were packing up, shaking hands, hugging it out. Old friends were happy to have another hang. New friends were excited about their new drinking buddies. And more than a few collaborations were conceived.
The GBH x BSSG weekend has a magical way of bringing the best out in these men. Camp is beautiful. The food and drink are magnificent. And we have a helluva good time. But it's more than that. When you bring a group of men like this together, the best men you can find, and remove the unnecessary burden of purpose that men so often suffer from, you get a different look at their temperament, and their character. Something akin to his boyhood self, full of energy, and humor, and heart. For all the years we put on our livers that weekend, I truly believe this gathering puts even more into our hearts.

Additional thanks this year go to:
Andrew R. Wright for the incredible hand-carved type used in the menus, signage, logo and poster
Hillary Schuster for designing all the collateral, and developing concepts
David Burkart for making an amazing video that captures the spirit of the weekend
Mike Pietrus for scoring the video with original music
Jeff Cagle, Sam Macon, Mikey Litchfield, and Trevor Shorey for sharing their photos
'Til next year.
Michael Kiser