Nestled into a tiny taproom in Evanston, just north of Chicago, sits a community brewery that's starting to ready itself for its next phase of growth: canning and distribution. Sketchbook Brewing is one of the area's more grass-rooty stories, co-founded by brewer Cesar Marron who first got peoples' attention when he won the Sam Adam's Longshot homebrewing challenge back in 2013. It took a minute, but he gathered a smart, creative group of people around that passion and started quietly working towards a brewery he could pack into an alleyway in Evanston and opened a humble operation more than a year later.
Since then, the Sketchbook team has built their brand on the scrappy nature of their ambition, and focused squarely on their hyper-local community, which is full of creative-types itself. The Sketchbook partner team, made up of a few different families, contains professional and teaching artists as well, like Alice George and Shawn Decker. This extends into the taproom where patrons, many of whom are also aspiring or accomplished artists in their own right, take advantage of the blank canvases scattered around the bar in the form of coasters.
Cesar walked into GBH's studio over four years ago with a humble, but award-winning smoked gratzer to share. This time he and his team walked in with a bold vision for the future.
As their 3-year anniversary approached, and their business model evolved to afford distribution and a commercial portfolio, they partnered with our studio team here at GBH to re-invent the brand in a way that both supported their artistic and community inspiration, and set them up for success in a competitive commercial environment.
We start every project by listening for the insights that will make a brand special and ownable long after the launch, and with Sketchbook, there was a ton of pent up creativity with each member of the team. There was a wide range of aesthetic opinion to wrestle with coming from articulate, educated, talented artists, each of who could easily have developed a compelling visual style of their own. And they could have defended it well! So we decided to take advantage of that energy, channeling it into a system that supported them all, and gave them room to play. For a group like this, it was very serious play.
While the existing brand visually communicated the idea of a "sketch" in a literal sense, we wanted the new brand to create the opportunity for actual sketching in a variety of directions. The typeface chosen for the wordmark is meant to be familiar and carry through some of the character of the old mark while giving us better legibility, scalability, and some fun new interactions between the letter forms.
The entire mark started with hand-made shapes cut out of different materials by our Art Director, Mike Duesenberg. From there, we developed a positive/negative space system that could lend a slightly askew quality to the final renderings and be used as a doorway to the artwork behind, building on the idea of the brewery's own role in the small Evanston alleyway they call home.
The Sketchbook re-branding opportunity was a best-case-scenario for our team at Good Beer Hunting: a thoughtful, engaged team on the client side who was excited to work with us in a collaborative way. We wanted the casual customer walking by the shelf to feel that same hook that we felt when they first walked into our studio — a small brewing company that's bright, energetic, and having a ton of fun.
We can't wait to celebrate with them at the 3rd anniversary party tonight.
Team:
Michael Kiser, Creative Director
Mike Duesenberg, Art Director
Cooper Foszcz, Designer, Illustrator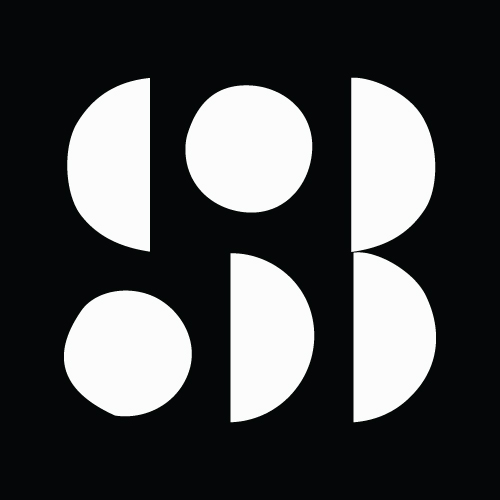 GBH Studio x
Sketchbook Brewing Co.